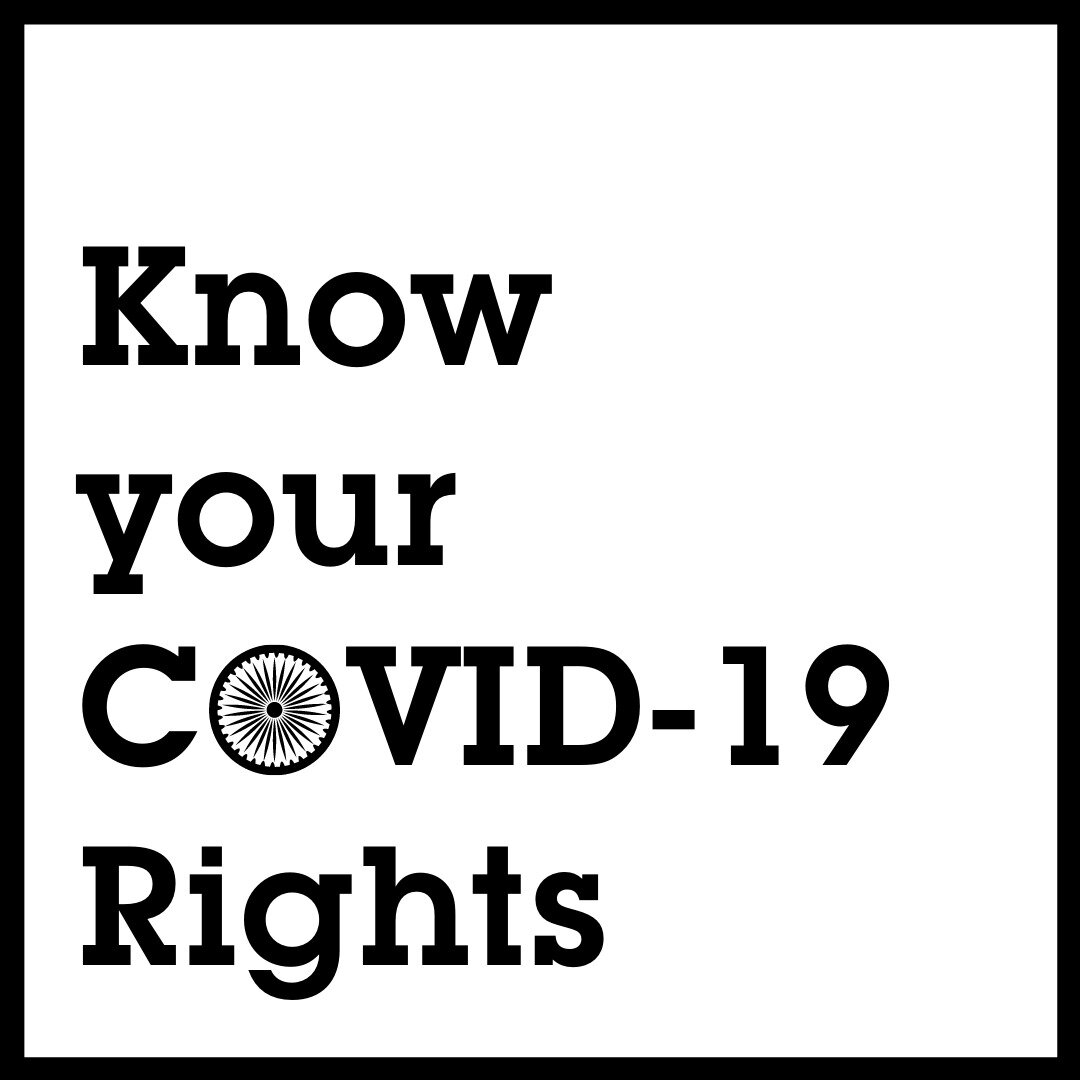 Interview with Ms. Sharon Mathew, Founder of Covid Rights India
Content :
1. Tell us about yourself
I am a law graduate from Gujarat National Law University (GNLU) and am currently working as a Research Associate at the CPR Initiative on Climate, Energy and Environment (CPR-ICEE), where my primary role is understanding the functioning of the regulatory and judicial institutions pertaining to the environment, in general, and air quality in particular. Prior to joining CPR, I worked as an Associate Litigator with the Legal Initiative for Forests and Environment (LIFE), a Delhi based environmental law firm where I represented social welfare organisations and marginalised communities in cases involving breach of environmental obligations before the National Green Tribunal and the Supreme Court.
2. How did the idea for your business come about?
The inspiration to create this website came to me at a team meeting with my colleagues at CPR. One of my colleagues mentioned that his landlord had been infected with COVID-19 and had sought admission in a hospital for treatment. The hospital denied treatment to the landlord despite his worsening symptoms on the ground that he did not have a positive RT-PCR report. During the process of getting tested and obtaining a positive report, the landlord passed away. A life which could easily have been saved was lost due to a piece of paper. A piece of paper which was considered a more essential requirement in order to receive medical attention than plunging oxygen levels and scorching fever. Not only was the action of the hospital ethically wrong, it was also in direct contravention of a government order and a direction given by the Supreme Court of India. Orders and directions which clearly stated that hospitals cannot deny medical assistance merely because the patient does not have a positive test report. This essential right to seek medical attention was not known to the landlord due to a lack of access and dissemination. The rights and procedures created to protect the citizens are of no use without the people being aware of them. Multiple lives have been lost due to the lack of access to these various orders and directions.
3. Can you tell us about your venture?
I created this website to collate all such orders and directions passed by the central or state institutions of our country and create short explanations of the impact of these orders. It is meant to be an accessible portal to answer all questions that a person might have in relation to the services provided by institutions during the COVID-19 pandemic. It provides a one stop portal for all orders passed in the country passed specifically to protect the citizens during such trying times. It is to ensure that the people who are most vulnerable during this pandemic are aware of their rights in seeking medical attention, vaccination or any allied aid to reduce the avoidable loss of lives.
Further, we have a community of brilliant lawyers who have volunteered their time to provide pro bono legal advice concerning COVID-19 to people in need. We understand that the pandemic has placed people in a delicate situation where financial constraints are real and the thought of hiring a lawyer seem daunting.
4. What are the challenges you faced till date and presently facing?
A major challenge has been the collation of all relevant orders, directions, circulars, notifications etc. that have been passed by various ministries, governments and courts. Each state has its own set of procedures created by the governments and the High Courts in addition to the orders and directions of the Central Government and the Supreme Court. Our community of lawyers and researchers have been instrumental in updating the website with these orders and directions so that no relevant information falls through the cracks. The circulars and notifications are also in regional languages and so the local lawyers of these states have been instrumental in translating these documents so that they can be made accessible to all.
Though the website is meant to increase awareness among the people of their rights, this goal cannot be achieved without people being aware of he website itself. Our social media and outreach team has been essential in spreading the website to the people.
5. What was your key driving force to become an entrepreneur?
Since I was a child, the relationship between the law and the people it governs has always interested me. I always saw the law as something that was not only meant to protect the people rights, but also create streamlined procedures for the people to avail of these rights. The need to serve a purpose larger than just myself by using my skills as a lawyer has always been my key driving force.
6. How do you market your business, and which tactics have been most successful?
Our venture is an entirely organic one. We've been reaching out to prominent journalists, lawyers and personalities in India to spread the word about our organization. We've observed that social media support from these persons have been the greatest boost to our venture.
7. What kind of culture exists in your organization, and how did you establish it?
We encourage people to voice their opinions freely. There exists no hierarchy as such and the opinions of volunteer interns is just as important as those of the founder. This fosters greater involvement, commitment. This is something I learned as a student in Gujarat National Law University where I was the captain of the Girls University basketball team. A team works best when every voice is equal, the strengths of each person are amplified and the weaknesses of each person are covered effectively.
8. How do you generate new ideas?
Generating new ideas is a function of the problems that exist in our society. Once the problem has been identified, the solution can always be devised. But the impediment is usually in sitting down, taking a moment and thinking about what the real problems are, what the demands of the people are.
9. What are your ideals?
I truly believe in ensuring that all our operations are undertaken in a democratic manner where it isn't one person dictating the schedule but a collaboration of minds that steer the course. Every person provides a new and interesting perspective and it's important to listen to it. I also believe that punctuality forms the core of my ideals. Once a commitment has been made then it must be met within the time period prescribed. Not adhering to this is much like having a missing brick in the wall, it weakens the foundation.
10. What has been your most satisfying moment in business?
The most satisfying moment in the venture will always be when clients come back to us and tell us how helpful we've been to them, how much our organization matters to them. It's what keeps us going!
11. What entrepreneurial tricks have you discovered to keep you focused and productive in your day-to-day busy schedule?
Keeping in mind the fact that I have a full-time job at the Centre for Policy Research, it is important for me to compartmentalize the day into how much time I devote to COVID Rights India and how much to CPR. Sticking to this has helped me structure my day better and not feel as overwhelmed by both of them.
12. Who has been your greatest inspiration?
My older brother, Rohan Mathew, has been my greatest inspiration. At the outset, he helped me chart out how the venture would look like, how to tackle problems and how to effectively lead a group. When I didn't fully understand the reach and potential of my organization, Rohan pushed me to think bigger, dream bigger. Being from a financial background, he was able to provide valuable insight on how to best structure the day to day workings of the organization. Most importantly, on days when I feel overwhelmed by stress he is the calming force and the biggest cheerleader on days when we're celebrating our success.
13. Any message for future entrepreneur
Have faith in your ideas and more so in yourself. Don't underestimate your own potential because with a little time and dedication, anything is possible.
For more details visit https://covidrightsindia.com/