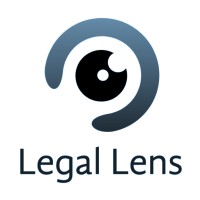 Interview with Catherine Jane Paulse, CEO of Legal Lens
Content :
1.Tell us about yourself
Legal Lens is made up of four co-founders. I am the CEO, and an admitted attorney with experience at ENSAfrica and Werksmans. Yusha Davidson is the COO, and is also an admitted attorney with experience at Werksmans. We have a great tech team working under the guidance of our CTO, Carlton Ngwenya.We also have a team of experienced attorneys who assist Legal Lens in reviewing invoices.
2.How did the idea for your business come about?
The idea behind Legal Lens actually came to us while shopping. We received our till slip and being the pedantic lawyers which we were, we went through the slip, line by line, to check if there were any errors. It was very interesting. Everyone is able to go through their shopping till slip and check if there are any errors. But, was this the reality when receiving any form of slip or invoice? Does this happen in the legal space? So In the legal space, when a client receives an invoice from a lawyer, more often than not, the client has absolutely no idea what each line item truly entails and whether the action justifies the amount charged. So how do you possibly know whether your legal invoice has errors or whether the amount is in fact justifiable? The harsh truth is that for many South African companies and individuals, you simply don't know. We then called up some of our friends and family to ask them what they did when they received a legal invoice. The overwhelming answer was simply "you know, I was shocked at how high the fees were, but I paid." This realization then sent us down a crazy few months of intense research into legal fees in South Africa. In September 2020, the South African Law Reform Commission released a report on the investigation into legal fees, which alerted the public that unethical and improper billing practices by lawyers is a pervasive reality in South Africa. The Commission noted that access to justice is severely hindered by the fact that legal fees are excessive, which is exacerbated by unethical and improper billing practices by lawyers.Following our own extensive market research, and from personal experience as attorneys, we found that legal invoices reflect a number of errors and billing practices that result in legal fees being inflated by up to 60%. Our team also found that companies and individuals alike are unable or reluctant to review legal invoices due to the administrative nature of the task, a lack of understanding of what constitutes a justifiable basis to seek a reduction, and a fear of disrupting the close relationship with their attorney. Equipped with all the research, we developed Legal Lens during the course of 2020 and we are now servicing both companies and individuals.
3.Can you tell us about your venture?
Legal Lens has been developed to serve as the only effective solution to prevent improper and unethical legal billing. Legal Lens utilises artificial intelligence, machine learning and experienced attorneys to digitally review unpaid legal invoices and reduce legal fees of companies and individuals by up to 60%. Legal Lens handles all discussions with the attorneys regarding the fees in dispute to ensure that the relationship between the attorney and the client is maintained. Legal Lens will also maintain analytics on individual invoices and on aggregate in order to provide our clients with better insight on their legal spend. On average, Legal Lens is able to reduce legal fees by 10%, but has seen reductions up to 60%. For our services, Legal Lens charges 17.5% of the saved amount. If we are unable to reduce the legal fees, we do not charge a fee for our services.
4.What are the challenges you faced till date and presently facing?
Thankfully, to date, we have not faced significant challenges. We have received considerable support from the public and regulatory bodies in South Africa.
5.What was your key driving force to become an entrepreneur?
I became an entrepreneur to effect change in the legal sector in South Africa, change which I envisioned was necessary.
6.How did you raise funding for your venture?
The co-founders of Legal Lens have contributed capital to the business.
7.What kind of culture exists in your organization, and how did you establish it?
As soon as we founded the company, each of the co-founders were selected based on their specific skill set and previous experience working within the startup space. It is important that everyone shared a passion and interest in solving the specific problem of overcharging of legal fees. Any additional staff that joins the team is chosen based on their eagerness to contribute to the business. It is important that each team member supports one another and we have achieved this special culture in our business. It is important to ensure that you trust and appreciate the skill and knowledge of each team member and not encroach on a field in which you perhaps do not have technical knowledge.
8.How do you generate new ideas?
We get an understanding of what our customers require from utilizing our services. We translate this feedback into further developments into our solution.
9.What are your ideals?
I am passionate about access to justice for everyone and not simply those who can afford it.
10.How do you define success?
Success for me is being able to operate a successful and profitable business which I am passionate about, while maintaining the balance of a healthy life.
11.Do you believe there is some sort of pattern or formula to becoming a successful entrepreneur?
I don't think there is necessarily a pattern or formula to becoming a "successful" entrepreneur, but you can certainly equip yourself with the necessary skills and knowledge to start the process of firstly becoming an entrepreneur. It is important to keep reading and developing your skills. I would recommend that everyone begins their journey by reading "The Lean Startup" by Eric Ries. As your journey continues, constantly go back to the lessons of this book and apply it. Of course, you should read as many entrepreneurial books as possible.
12.What is your favorite aspect of being an entrepreneur?
I love the fact that I can work with a team that shares my values and is passionate about making positive changes to South Africa.
13.What has been your most satisfying moment in business?
The overwhelming support which we have received from the public, who truly stand behind the purpose of Legal Lens' business and wish to see a solution to a problem faced by many people in South Africa.
14.What entrepreneurial tricks have you discovered to keep you focused and productive in your day-to-day busy schedule?
I have implemented Notion across of our company, which is a workspace tool. Notion allows our entire team to track our progress and collaborate amongst each other seamlessly.
15.Who has been your greatest inspiration?
My mother is my greatest inspiration. She is a single mother, who sacrificed everything to ensure that I obtained an education and became a lawyer.
16.Any message for future entrepreneur
Do something that you are passionate about – it makes your job so much easier.
For more details please visit https://www.legallens.co.za/