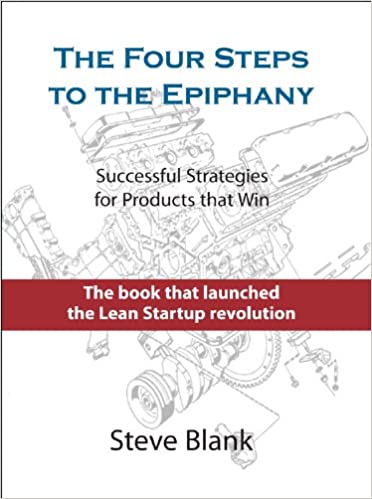 The Four Steps to the Epiphany by Steve Blank (Book Review)
Content :
BOOK NAME- The Four Steps to the Epiphany: Successful Strategies for Products that Win
AUTHOR NAME- Steve Blank
PUBLISHER- K & S Ranch
PAGES- 372
YEAR OF PUBLISHING- 2003
RATING- 3.75/5
WHERE TO BUY: Buy The Four Steps to the Epiphany on Amazon.com

ABOUT THE AUTHOR

Steve Blank, a retired eight-time serial entrepreneur and author, changed the building and training of start-up enterprises worldwide. He is the author of the bestseller The Startup Owner's Manual and his first major piece was the Four Steps to the Epiphany. He is also credited for starting the lean startups' movement. In his May 2013 article in the Harvard Business Review about the Lean Company, Steve is a very well-known thinker about startups and creativity.
His books and blogs redefined how effective startups can be created, his Lean LaunchPad at Stanford, Berkeley and Columbia redefined how entrepreneurship is taught and his class for the National Science Foundation's Innovation Corps forever changed trade. He frequently publishes his studies in The Wall Street Journal, Forbes, Fortune. Blank's first book, Four Steps to the Epiphany (2003), gave the impression that start-ups are not small versions of big business that run business models, but that startups look for them and made it clear that start-ups need tools other than those that run existing enterprises.In 2011, Blank created the Lean Launchpad, a hands-on curriculum that combines Business Model Design and Customer Design with quick and efficient implementation of consumer engagement in the real world. Blank's essays on his blog, www.steveblank.com, and his books are known as essential reading by entrepreneurs, investors and existing companies worldwide.
ABOUT THE BOOK

The book introduces a Customer Development framework that guides start-ups in their search for a sustainable business model to support the Lean Startup movement. The booth The Startup Owner's Guide, released in March 2012, is a step by step guide for developing a profitable company, which combines the best practices, lessons and tips the start-up community has provided since The Four Steps.The book provides realistic advice on how to manufacture, market and develop your business at different stages in your business. Occasionally it's dry, but if you look back, it's a great guide about what to do and when to do.The best-selling classic that spawned 10,000 start-ups and new corporate businesses is one of the most influential and realistic books ever. The Four Steps to the Epiphany contributed to the Lean Startup approach to new businesses. It was the first book to propose that start-ups do not consist of smaller copies of large corporations and that emerging ventures vary from those that already exist. The book provides a practical and proven 4-stage customer search process that provides insight into what is successful in some start-ups and leaves others to sell their furnishings.
WHAT'S WITH TITLE?

Four Steps to the Epiphany means the four steps to the realisation. An Epiphany is a sudden and startling encounter (from the ancient Greek word, the Epiphanea, the "manifestation, startling appearance"). The word generally is used to describe scientific, theological or philosophical developments, but may be used where an enlightening discovery allows for the comprehension of a question or circumstances in new and more profound ways. Psychologists and other scholars are studying epiphanies, particularly those who try to study the innovation process.Epiphanies are fairly rare events that typically follow a period of substantial contemplation on an issue. A new and significant piece of information also activates them, however, most importantly, a depth of prior knowledge is needed to make the understanding happen. Initially, the term epiphany applied to spiritual insight. The notion is used more frequently without these connotations today, but a common interpretation persists, because the revelation appears to have unexpectedly come from the outside, is that the epiphany is supernatural.
REVIEW

It is the fastest way to fail in business: take a lot of time and resources to build something nobody wants. It sounds like common sense until you learn that most business people first struggle to create it, then seek to figure out whether someone wants to buy it. Another way to create valuable offers is to make sure you have a customer market that is willing to purchase your offer before raising millions of dollars of venture capital.
The book introduces a Customer Development framework that guides start-ups in their search for a sustainable business model to support the Lean Startup movement. The booth the Start-up Owner's Guide, released in March 2012, is a step by step guide for developing a profitable company, which combines the best practices, lessons and tips the start-up community has provided since The Four Steps.
Instead of blindly executing a strategy, The Four Steps help to detect and fix flaws in goods and business plans before they become costly. Quick iteration, consumer reviews, and testing of your ideas are all explained in this book. The book gives you clear examples of what to do and how, and what to do. The book will provide you with new capacities to coordinate sales, marketing and the company for success. Anyone who starts something new must read this essential book.
In this book, Blank discusses the "Customer Growth" model in detail and then describes it as "a mystery since effective start-ups have been followed but have not been expressed by anyone. Its fundamental suggestions are the antithesis of standard practice, yet followed by successful people. It is the path that is hidden in the plain view. Blank insists that "the better way to run startups is to do what it offers. Many who live through the hard first few years "do not follow the conventional product-centred launch model advocated by risk capital project managers."
"In fact, 'the effective method is created through trial and error, hiring and firing. The winners invent and live a consumer learning and development process in particular. I call this "customer growth," a sibling to "making" and any productive startup, consciously or not, recapitulates it.
Steve's Guide to creating a successful startup is the Four Steps to the Epiphany. In it, he implements the steps as a creator to build a product that solves a real problem for the consumer. Steve also points out where other marketing businesses have gone wrong and how you can take steps to avoid their errors.
The book presents a realistic and tested four-stage selection method for consumers and provides insights into what makes certain businesses succeed and what makes others go bankrupt. It helps to discover and fix flaws in product and business planning, rather than blindly implement a strategy, before they become costly.With clear examples of what you can do, how you can do and when, the book gives you new skills for sales, marketing and success organizing your business.
SOME OF MY KEY TAKEAWAYS FROM EACH OF THE STEPS(CHAPTERS) - THIS ALSO MADE IT VERY BRIEF
A. CUSTOMER DISCOVERY
 A startup's goal is to understand customers and how they buy and to build a repeatable financial model for these circumstances. (p. 10).
 "Premature selling is the immediate cause of the Death Spiral." (p. 14).
 When customers do not respond as expected, further execution on the same plan will lead to failure. (p. 29).
 "You also want to articulate in writing both the business and product vision of why you started the company. Called a mission statement, at this point in your company's life this document is nothing more than 'what we were thinking when we were out raising money. (p. 57)
 How to pick a sales channel: "(1) Does the channel add value to the sales process? (2) What are the price and complexity of the product? And (3) Are there established customer buying habits/practices?" (p. 68)
 Develop an innovators list as a subset of your contact list. Innovators can well-respected companies, departments, or individuals. They will later help you as advisory board members and industry influencers. (p. 79)
 Always ask your contacts for further contacts. Always reference someone when calling an executive's secretary. Draft an email for your contacts that they can forward to their contacts.
 Problem presentation: List problems, today's solutions, and the new solution (p. 82).
 Customer understanding: Find out how your customers spend their day. (p. 84).
 The goal of finding a good product concept is having a single paragraph feature that you can sell to many customers, not having a 10-page feature that you can only sell to 10 customers. (p. 89).
 Draw the customers workflow in the presentation with "before" and "after." You are still not selling, only discovering whether the product is saleable. (p. 91).
B.CUSTOMER VALIDATION
 Sales Roadmap questions that need to be answered before executing any sales process: "Are we sure we have product/market fit? Who influences a sale? Who recommends a sale? Who is the decision-maker? Who is the economic buyer? (p. 111)
 The Customer Validation Team: Customer Validation should not be delegated to the VP of Sales as the startup is still in learning mode. (p. 111)
 Channel partners are not customers. You have to create demand-pull yourself. (p. 144)
C. CUSTOMER CREATION
 Early marketing spending is worth nothing if you try to create a new market if the customer base is small, and if company growth is limited by outside factors. (p. 160)
 "Startups creating new markets will not create a market of substantial size to generate a profit until three or seven years from product launch." (p. 166)
 The first-mover advantage is simply nonexistent. (p. 177)
D. COMPANY BUILDING
 Company building has 3 components: Build a mainstream customer base; build the organization, the management, and the culture; create fast-response departments. (p. 213)
 Departments can be organized in an agile way by allowing efficient OODA loops (observe, orient, decide, act). (p. 248)
CONCLUSION
Steve Blank defines value creation as a "customer growth process" in 4 steps to the Epiphany-to discover what your customers want, to validate something to give them, to make actual sales, and then to create a business to satisfy an established demand. This is not the most beautiful or desirable book on the market, but it is a book with the expertise of Blank to start a truly successful business. Four Steps to Epiphany will allow you to validate your business concept before your energies and life savings are reduced into a new business idea, through a mix of papers, diagrams and courses of a famous Blanken class from Sanford.
This book teaches you how to avoid the many pitfalls of the early period into entrepreneurship and how to create a business. It's a highly recommended book which changes the way you approach start-ups.
Although Blank indicates that the above mentioned "journey" requires a four-step process, it should be poured out that not one, but many epiphanies or, ideally, discoveries can and should take place during this process, one that is multi-dimensional rather than lineal from point A to point Z.
The best-selling classic that launched 10,000 entrepreneurs and new businesses is one of the most popular and realistic business books of all time-The Four Steps to the Epiphany.
I am also convinced that initiatives like those proposed by Steve Blank should be planned, guided and informed by a methodology and procedure. If you don't know where you are going, there will be no road for you, and you will not have either a methodology or a process.
I also hope that those who read this comment will be prepared to determine whether or not to read it and will at least get an idea as to how facts, observations and expertise could maybe help them and their organizations substantially.