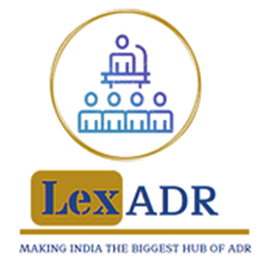 Interview with Mr. Rahul Saraswat, Founder of LexADR
Content :

1. Tell us about yourself
I am currently in my final year of B.Sc. L.L.B (Hons.). To be honest a career in law was never in my mind when I was in school. My father introduced me to CLAT and that's how I ended up in a law school but gradually I generated my interest in Alternative Dispute Resolution (ADR) which eventually led to LexADR.
2. How did the idea for your business come about?
LexADR is not a business. According to me it's a learning platform. LexADR was built with the aim of learning Alternative Dispute Resolution (ADR) directly from the practitioners.
The idea of LexADR came to my mind when I was in 4th year. As we all know that ADR is at a very nascent stage in India and there are many budding ADR enthusiasts who are willing to pursue their career in practice of ADR but they face one major problem i.e. lack of guidance and mentorship. We believe that the platform will not only help in learning and understanding multiple aspects of ADR but also helps in building a career in ADR.
3. Please tell us about your venture LexADR
LexADRis a legal learning platform built exclusively for Alternative Dispute Resolution (ADR) enthusiasts. It aims at helping ADR enthusiasts learn about the practice of ADR directly from practitioners and academicians. At LexADR, we believe in practical learning and try to promote the same among our learners through interviews and video lectures. We believe that the platform will not only help in learning and understanding multiple aspects of ADR but also helps in building a career in ADR.
4. What are the challenges you faced till date and presently facing?
Starting a platform is much easier than sustaining it as you need to update and upload the contents on daily basis in order to keep the visitors. We approach practitioners for interviews while most of them accept our request but some left the message unseen. Convincing the practitioners for fillingthe interview questionnaire was the biggest challenge.
Moreover, challenges like preparing an interview questionnaire according to the profile of interviewees, sending them reminder texts for sending the responses, convincing practitioners for giving their interview, managing website, getting new contents were some of the challenges and we are still facing them as it is and will be part of LexADR.
5. How did you raise funding for your venture?
GNLU Legal Incubation Council (GLIC)(www.glic.gnlu.ac.in) helped us in getting funding from the Student Startup & Innovation Policy (SSIP) Scheme introduced by Education Department, Government of Gujarat. For more details visit http://ssipgujarat.in
6. Any message for future entrepreneur.
I don't think that I am an entrepreneur. Being a law student it was a tough task for me to build and manage a website but I learnt it from YouTube and various other sources. Still I try to learn new things and execute them on website. We started LexADR in January 2019 and in this span of 7 months I learnt how to build and manage an online platform and I will continue learning the same. I believe that there is no limit for a human, he/she can achieve anything and the secret for achieving anything is desire and enthusiasm. One can be a lawyer and an actor too or can be an actor and an engineer too, there is no limit. So go out and try new things you will get ideas to start something.
For more details visit https://lexadr.com